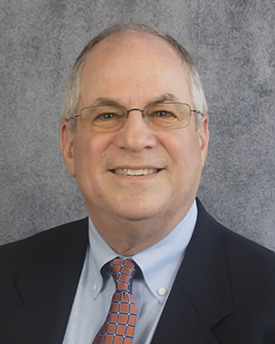 Education:
J.D., 1977, Capital University, Columbus, Ohio
B.A., 1974, Indiana University, Bloomington, Indiana
North Central High School, Indianapolis, Indiana.
Bill Rosenbaum was admitted to practice law in Indiana in 1977 and has been in private practice in Indianapolis since that time. After working for 11 years with the law firm of Cohen & Malad (previously, Dillon Hardamon & Cohen), Bill joined Stephen Hyatt in 1988, and formed Rosenbaum Law, P.C. in 2011.
The focus of his law practice includes representing owners of small businesses and professional practices, real estate transactions, estate planning, probate and trust administration, and civil litigation.
Bill has extensive appellate experience, having been involved in over 40 appeals before the Court of Appeals of Indiana and the Indiana Supreme Court, and the United States Court of Appeals for the Seventh Circuit and the Fifth Circuit.
Bill has also been an Indiana licensed real estate broker since 1980, a member of the Metropolitan Indianapolis Board of Realtors since 1982, and an associate member of the Builders Association of Greater Indianapolis from 1999 to 2005.
Bill currently serves on the Board of Trustees of the Indianapolis Zoo and has served as Chairman of its Planned Giving Committee since 2000. Bill formerly served as a member of the Board and as Vice President of the Central Indiana Land Trust. Bill also previously served as President of his own homeowners association.
Bill served as General Counsel for the Indiana Chapter of the American Physical Therapy Association from 1984 to 2006, as General Counsel of Citizens Action Coalition of Indiana from 1996 to 2004, as General Counsel of the Indianapolis Ballet Theatre from 1983 to 1995, as General Counsel of Global Gifts, Inc. from 1992 to 1996, and as a Board Member of Planned Parenthood Association of Central Indiana from 1980 to 1986, including serving as Chair of its Development Committee from 1982 to 1984 and its Public Affairs Committee from 1984 to 1986. Bill also served on the volunteer panel of Indiana Lawyers for Soldiers from 2001 to 2003.